The Cross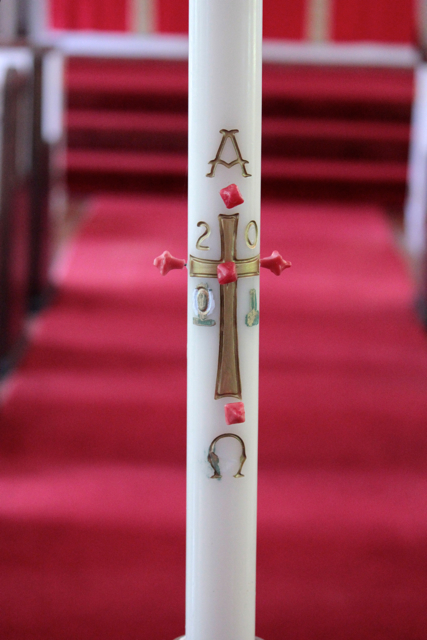 The cross is a powerful Christian symbol, not limited to Catholics. It represents the cross upon which Christ died.The cross is present all around the church's interior: on the altar cloth, in the Stations of the Cross, and even on the priest's vestments.
*****
The word cross comes ultimately from Latin crux, aRoman torture device used for crucifixion, via Old Irish cros. The word was introduced to English in the 10th century as the term for the instrument of the torturous execution of Jesus as described in the New Testament, gradually replacing the earlier word rood.
Wikipedia
The Crucifix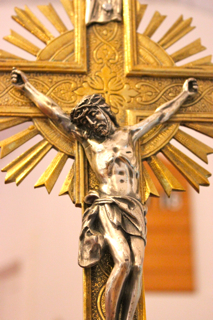 The Crucifix differs from the cross, in that it depicts the image of Christ being crucified, rather than that of the empty cross.The addition of His figure to the empty cross is intended to emphasize His human nature, which enabled him to suffer physical pain and death.
Not all crucifixes are identical.Depending on the mission of the church, the depiction of Jesus may evoke various emotions ranging from sorrow, to fear, or to awe. However, the purpose of the crucifix remains the same: to remind Catholics of the price Christ paid for humanity's redemption.
*****
A crucifix (from Latin cruci fixus meaning "(one) fixed to a cross") is an independent image of Jesus on the cross with a representation of Jesus' body, referred to in English as the corpus (Latin for "body"),[1][2] as distinct from a cross with no body.
The crucifix is a principal symbol for many groups of Christians, and one of the most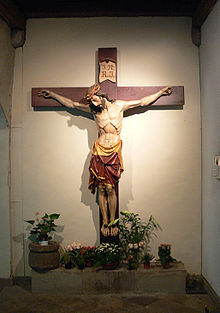 common forms of the Crucifixion in the arts. It is especially important in the Catholic Church, but is also used in Orthodox and Eastern Catholic, as well as Anglican, and Lutheran churches, (though less often in other Protestant churches), and it emphasizes Jesus' sacrifice — his death by crucifixion, which Christians believe brought about the redemption of mankind. Western crucifixes usually have a three-dimensional corpus, but in Eastern Orthodoxy Jesus's body is normally painted on the cross, or in low relief. Strictly speaking, to be a crucifix the cross must be three-dimensional, but this distinction is not always observed. A painting of the Crucifixion of Jesus including a landscape background and other figures is not a crucifix either.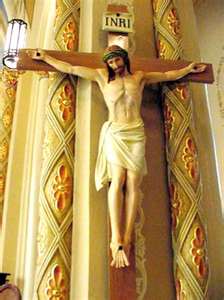 Large crucifixes high across the central axis of a church are known by the Old English term rood. By the late Middle Ages these were a near-universal feature of Western churches, but are now very rare. Modern Roman Catholic churches often have a crucifix above the altar on the wall; for the celebration of Mass, the Roman Rite of the Catholic Church requires that, "on or close to the altar there is to be a cross with a figure of Christ crucified".[3]
Wikipedia