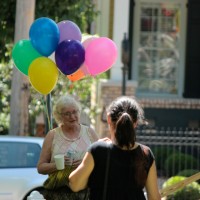 Inman Park Festival - April 28. 2012
April 29, 2012
Having been a part of the Inman Park community for over 30 years, the people of St Hilda's parish were please to participate in the annual Inman Park festival.
Our Art exhibit provided by Lisa Lynch received much attention and rave reviews, and our "Jumble Sale" attracted many to our open house.
Many people toured the church and asked questions both about our "little church on the corner" and about the Anglican Catholic Church in general. We look forward hopefully to seeing some of our new friends at Mass soon.
Our parishioners who came to help enjoyed fried chicken, chicken salad sandwiches, potato salad, tea and many other "goodies" provided by various parishioners.
Now that we have gotten our "feet wet," We're looking forward to next year.
Back