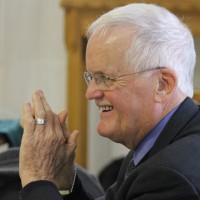 Rite of Reception of a Novice
June 7, 2012
On Sunday, June 10,2012, our dear friend David Gibson will be accepted into the Noviate as a Novice Brother of The Franciscan Order of the Divine Compassion during Mass at St Hilda's. Please make plans to join us for this exciting event.
Saint Francis of Assisi was born in the 13th Century as Francesco Bernadone, the son of a wealthy cloth merchant in Assisi, Italy.
His early years were those of comfort and luxury, even including a stint as a soldier during one of the numerous City State Wars of the time. But Francesco was, "not like other boys", and also early on showed remarkable compassion, perception and sensitivity. Coincidently or not, following a run in with his Father over his theft of valuable merchandise, the proceeds of which he used to aid the poor, and in which the local Bishop sided with his Father in the matter, Francis more or less disowned his Father, leaving at his feet even the very clothes off his back. Shortly thereafter Francis' aesthetic and contemplative side was sparked by visions and messages from God, Christ, specifically.
He concluded that a life devoted to God was to be his calling and immediately his discipline and demonstrated devotion to God began to attract others, a few at first, then a flood. At God's urging Francis decided to form a Religious Order different from those existing which he considered either too distant from the world they should be serving, or too lax.
The hallmarks of this new Order were several. They were to be an Order of Penance beginning with the designation of the Brother as friars (lower case), rather than Monks. They were not to live cloistered but simply and frugally in the world.

When a man joined his possessions were sold and the proceeds given to the poor. Sheds rather than buildings were their abodes. Food was to be begged for and education was strictly forbidden even down to including the prohibition on owning breviaries. Scriptures and the forms of religious observances were to be memorized. Contact with women was forbidden except in a service capacity. These friars were The First Order of Saint Francis.
Early on Francis met Clare Faverone de Cocorano, a female mirror image of himself and his experiences, and they became fast friends. Thus the Poor Clares were formed, The Second Order of Saint Francis.
As Francis and his group moved about, numbering over 50,000 in a space of ten years, countless Lay Persons were attracted to the Order and often abandoned jobs, churches, families, etc., to follow him. Francis quickly realized that emptying out villages was not in anyone's best interest so he founded The Secular Order of Saint Francis, the Third Order, also called tertiaries. Tertiaries live in the world and continue their ordinary secular activities while operating under a six part Rule of Life.
A Franciscan tertiary must pass through a six month Postulancy, and if accepted, a two year Noviate under the six part Rule of Life, after which time, if successful and it is mutually agreed to by God, the tertiary, and the Guardian of The Third Order (Archbishop Haverland is the Protector of the Third Order but is not involved in the day to day operations), the Novice takes his vows as a professed religious, committing to live a life of Purity, Simplicity and Fidelity.
Men and women are welcomed into the Third Order.
Back